Beetroot Ice Cream
This weekend we embarked on a flavour experiment inspired by my brother Tim, who is the Chef de Cuisine at Tru Restaurant in Chicago. Just before Christmas, I took my cousin Sam, his wife Brie, and my other brothers and sister to dine in his amazing restaurant. The third course of the evening was a selection of red and yellow beets with celery, tomato, and chocolate. I was most impressed by the combination of beetroot purée with chocolate shavings.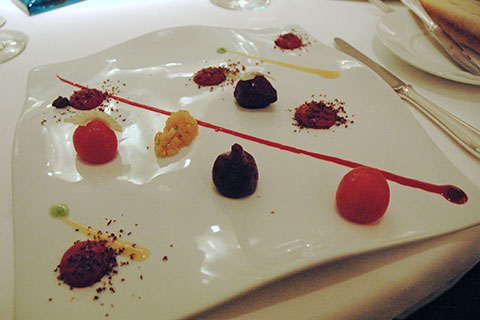 Big D and I have been talking about making a beetroot sorbet for the better part of the last year. We had always imagined adding black pepper, but Tim's dish got me thinking differently. When four beetroots arrived in our veg-box this week, I suggested we finally tackle the recipe.
However, we were undecided on how best to extract the beetroot flavour into a nicely textured sorbet. We decided to experiment. And thanks to my handy new Donvier half-pint ice cream maker (that Dad gave me for Christmas) we are able to do test batches a cup at a time and perfect the recipe before the final crank. We tried three approaches:
a sorbet of puréed raw beetroots with sugar syrup
a sorbet made by cooking grated raw beetroots in sugar syrup and then removing the grated beetroots, hoping the flavour stays in the syrup
an ice cream (the standard Russell recipe) with puréed roasted beetroots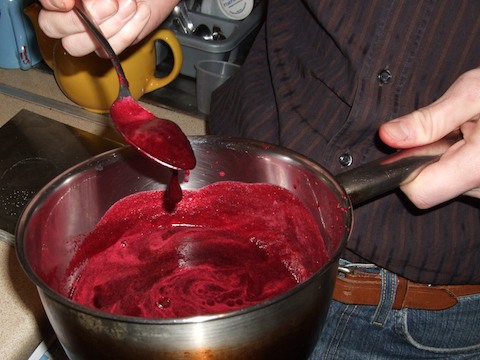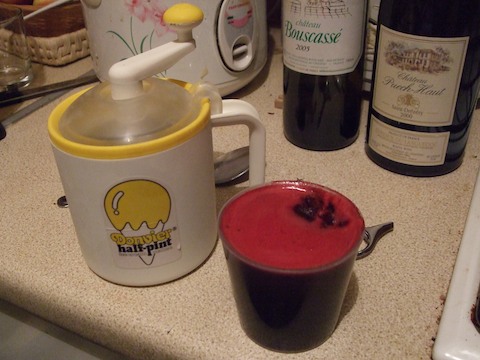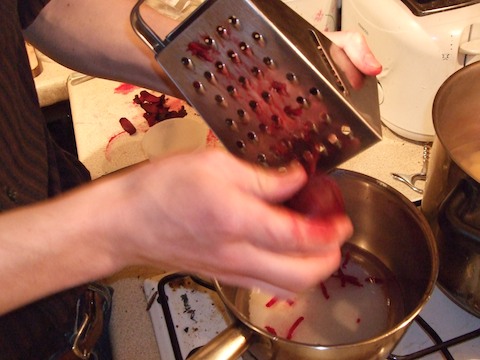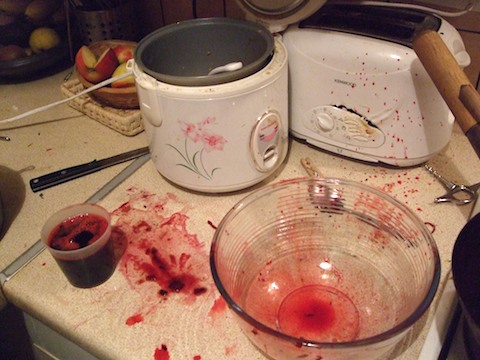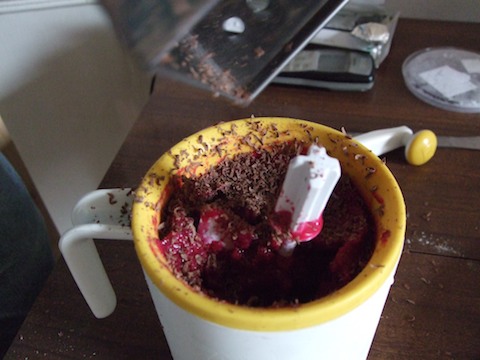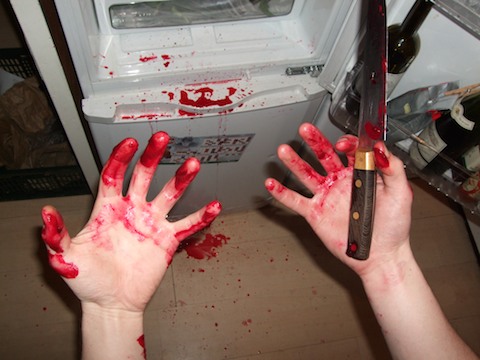 The moral of the story? The Russell recipe never fails! Both of the sorbets tasted a bit too bitter and earthy. Maybe the ice cream was better thanks to the milk and cream, or maybe it was better because the beetroots were roasted… Our experiment wasn't really complete since we did not make a roasted beetroot sorbet…Anyway, the beetroot ice cream was delicious with chocolate shavings on top, so we marched forth with the following recipe (in a half-gallon freezer):
1 egg + 1 egg yolk
1 cup of sugar (225g)
1/2 cup of double cream (118ml)
approximately 3 cups (700ml) of puréed roasted beetroots (about 9 small beetroots roasted for a few hours in the oven and then blended with a little milk)
enough milk to fill the can to a few centimeters from the top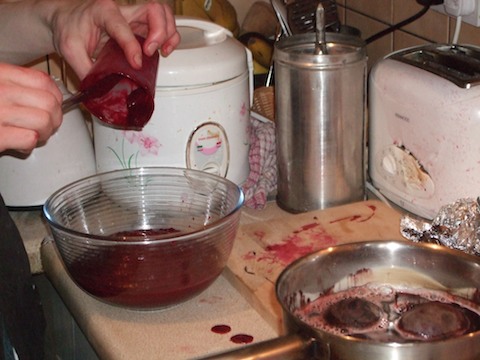 However, we got too excited to simply add chocolate shavings, and went ahead and made a delicious chocolate gelato, which I'll describe in a separate post.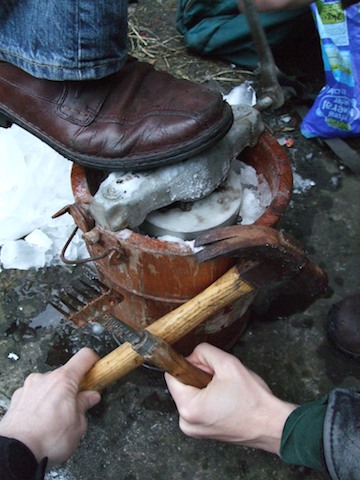 The end result was a wonderful combination of colours and flavours: A stripe of deep red beetroot ice cream next to a stripe of chocolate ice cream with freshly ground black pepper to garnish. Individually, each ice cream stood up well. And together they were delightfully interesting. The black pepper seemed a worthwhile addition to most of us, gently complimenting both of the other two flavours.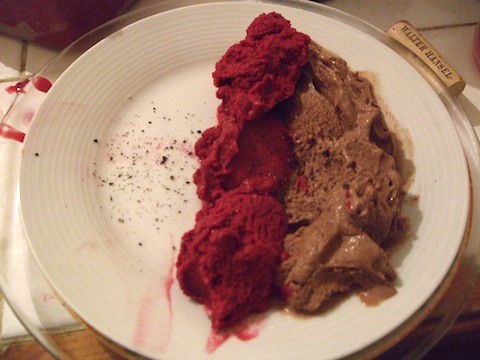 A real triumph of a dessert. And even better with a small glass of Maury.