Mango Sorbet in 4 easy steps
It's spring and mangos are finally in season, so it's about time to share a recipe for Mango Sorbet. It's easy to prepare and incredibly delicious, but only if you can find great mangos.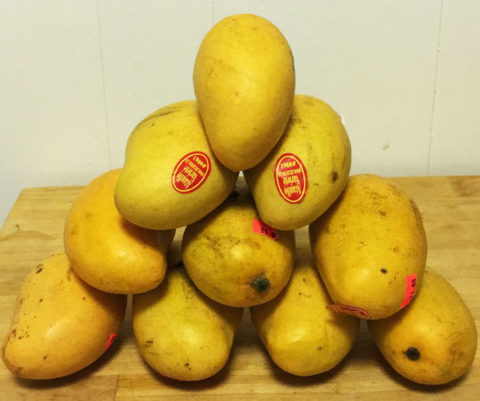 I prefer Mexican Ataúlfo mangos – the smaller yellow variety with shinier skin. If you can get them ripe and in-season, you can make an amazing sorbet. Alphonso mangos (from Pakistan or India) make a good substitute, as do the yellow variety you can find in West Africa (although they are more stringy than Ataúlfo and can be harder to work with).
Recipe (for a half-gallon freezer):
7 mangos
225g (1 cup) sugar
236mL (1 cup) water
a little extra water
Step 1: Peel and chop the mangos coarsely. Blend the mango flesh with a hand blender until it is a smooth pulp.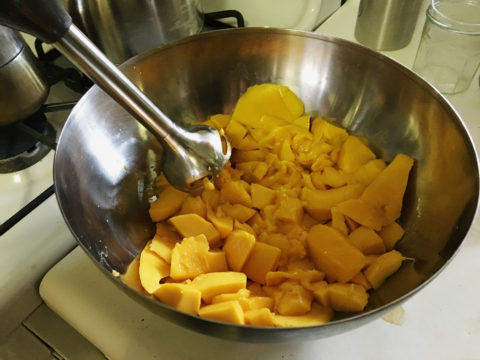 Step 2: Separately, dissolve a cup of sugar in an equal amount of water over low heat, stirring constantly. Let the sugar syrup cool.
Step 3: Once the syrup is cool, mix it in with the mango pulp. You'll probably need a little bit of water to get the mix up to volume and to thin it out a little bit. You want to have your half-gallon can about 3/4 full.
Step 4: That's it – time to crank!
Mangos are a sweet fruit with a lot of pulp, which means this recipe uses about half as much sugar as most of my sorbet recipes. The result is a delicious sorbet with luxurious texture.